Thunderbolt 2 | USB 3.1 Gen 1 | FireWire 800 | HDMI
Gigabit Ethernet | Audio In & Out

12 Ports of incredible connectivity

Dual Thunderbolt 2 ports for daisy-chain support

Includes Thunderbolt cable

Ultra-HD 4K and multiple display support

Five USB 3.1 Gen 1 ports, including two high-powered charging ports

FireWire 800 for connecting external storage and legacy devices
Finally, a Thunderbolt Dock Done Right
12 Ports of phenomenal flexibility, all united to your Mac with just one lightning-fast Thunderbolt 2 cable. OWC Thunderbolt 2 Dock is the new foundation for your perfect workspace. Awesome performance meets incredible connectivity, the OWC Thunderbolt 2 Dock offers the ultimate in convenience and flexibility to streamline any workflow. With just one Thunderbolt cable, connect up to five USB 3.1 Gen 1 devices, Gigabit Ethernet, a FireWire device, HDMI, audio in, and audio out.
Connect More Displays
Configure the ultimate display setup to meet the needs of your workflow. Add a dazzling ultra HD 4K display, two high definition displays, or one 4K display and one high definition display. Even connect a VGA, DVI, or DisplayPort monitor utilizing the Thunderbolt 2 Dock's built-in HDMI and Thunderbolt.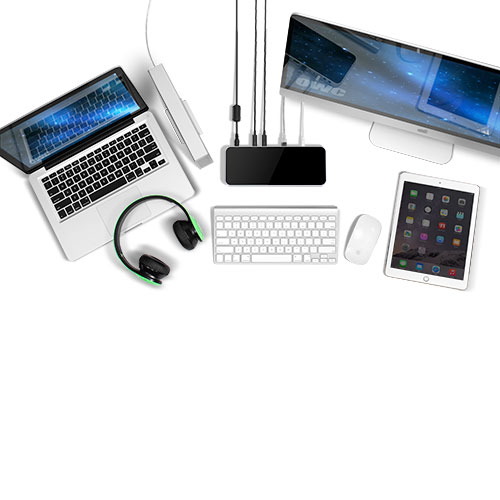 Interface / Ports
2 x Thunderbolt 2 (20 Gb/s)1
5 x USB 3.1 Gen 1 (5 Gb/s)

(3) USB 3.1 Gen 1
(2) USB 3.1 Gen 1 high-power charging

1 x FireWire 800
1 x HDMI 1.4b
1 x Gigabit Ethernet
1 x 3.5mm Mono Audio Input
1 x 3.5mm Stereo Audio Output
2 Year OWC Limited Warranty